I decided after many, many floss tosses to finally go with my standard DMC choice. I say standard because I have 3 finished designs in my bedroom using these exact colors so seeing that this Lady Quaker will go in my bedroom above my desk I decided to keep the colors all in the family.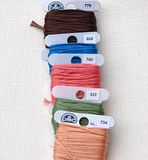 I will be stitching her on Antique White Linen. Hmmmm... that blue is showing much brighter than it looks in person but you get the picture!! :)
Happy Stitching everyone!